Art Galleries and Interactive Remote Exhibitions
We were excited to be approached by London based contempory artist Alias Trate to use our technology in order to reach an audience of people that would otherwise be unable to view his work due to the current climate. Allowing everyone to experience the art gallery from the comfort of their homes.

The talented cpgphotos.com supplied the stunning drone footage using a bespoke 3D printed drone with a mounted 4k GoPro, and with the Digma Advanced Interactive Player we developed a remote viewing art gallery.

Viewers can now experience the full dimensions of the gallery via the cinnewhoop style footage, accompanied by well-suited 'Air on the G String' to give a relaxing ambience whilst viewing the impressive artwork.

By clicking on the artwork as you fly up to it, users can view the art in full screen mode along with a close up of the art to see the methodical brush strokes of the artist. Viewers can also bookmark favourite pieces to share with friends or themselves as a reminder. The video has a burger menu located on the top right of the video which enables quick navigation, social media sharing and multiple ways of contacting the artist or exhibition.


About the artist
Trate is a self-taught Canadian figurative artist, working under an alias that refers to the human traits he paints. Painting since his youth, he employs a raw, childlike aesthetic and vivid colour schemes to chronicle the human condition. The artist makes no preparatory drawings and largely eschews non-personal source material, preferring to stand before the canvas and paint intuitively, capturing human sensibilities in deceptively simple, subconsciously sourced forms. For him, the act of painting is an act of reflection; meaning is discovered only upon completion of a canvas.


If you would like more information on Interactive Tours or have any questions, please Contact me here.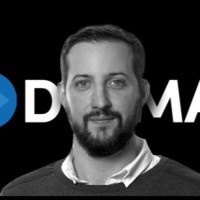 Author: Stuart Verschoyle