Property Sales are going Virtual
Viewing of properties throughout Covid-19 have been restricted due to obvious reasons. The UK housing market is currently frozen as the government instructed people not to move homes or go to viewings in person.

The use of virtual tours has been around for a while and has helped the way people from overseas view properties before flying over to see them in person. Now with travel bans and other restrictions this form of viewing properties is on the rise. Zoopla recorded a 215% increase in visitors by virtual viewings. Prior to the pandemic, virtual property tours were percieved to be an expensive niche and non-essential, but now it is quite the opposite.


How does Digma differ?
Digma has created an Interactive Real Estate Viewing Experience which can turn any property video footage into an Online Virtual Property Brouchure.

Noahslondon filmed this beautiful property in Dalgarno Gardens in Kensington and Chelsea. Now potential buyers can explore the property's features, navigate the house and bookmark their favourite rooms to save or send to an email. Check out the demo below...


Future potential use?
Ever walked outside a house that is for sale and wanted to know what it's like inside? QR codes are now being put on For Sale signs and with Digma we can create QR codes which link straight to the virtual viewings. Scan this one below for example.
Why Now?
Virtual Viewings is on the rise! It's quick and cheaper to set up a Digma virtual viewing. All you need is the video footage and that's it. You could use the 4k footage from a smartphone and have your Interactive Property Brochure up and running in no time. You can embed the video on your website or ask your Estate agents to either embed it on their site or link to your own url.
If you would like more information on Interactive Real Estate Video or have any questions, please Contact me here.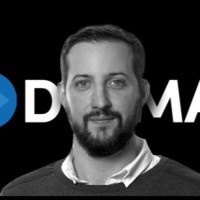 Author: Stuart Verschoyle